World renowned consultants join top Scottish heart team
February 08, 2021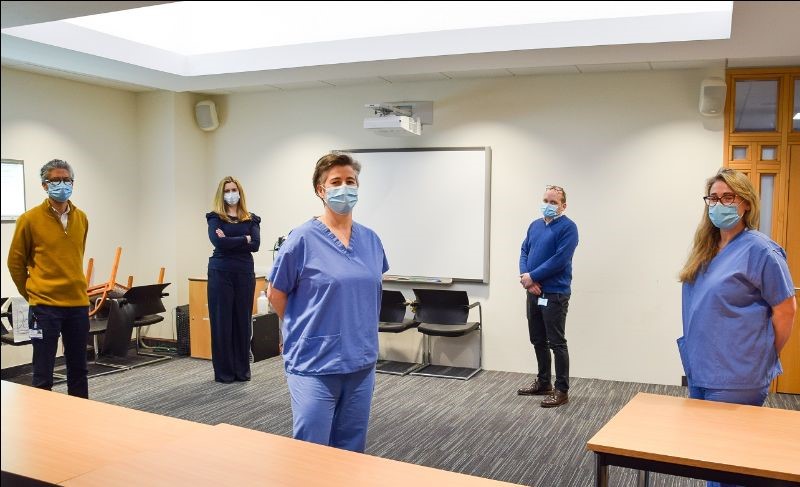 A vital national heart service has increased its number of consultants to continue providing world class life-saving care for vulnerable patients across Scotland.
The Scottish Adult Congenital Cardiac Service (SACCS) now has five consultants to help deliver a robust and resilient service for patients who require complex, ongoing heart care within the innovative team based at NHS Golden Jubilee in Clydebank.
The new recruits feature internationally renowned Consultant Cardiologists in Dr Lorna Swan, who has worked at the Royal Brompton Hospital in London and Toronto General Hospital in Canada – considered among the best heart centres in the world - and Dr Gruschen Veldtman, previously of the Cincinnati Children's Hospital in the USA and helped establish a centre of excellence for the speciality in Riyadh, Saudia Arabia.
The specialist team will now also benefit from the additional skills and experience of Dr Amanda Hunter, who trained at NHS Golden Jubilee and the Royal Brompton, and Dr Hamish Walker, who previously worked at the Golden Jubilee as well as esteemed centres in Southampton and Leeds.
The SACCS team provides regular, ongoing care and support for adults who were born with heart conditions, as well as carrying out surgery, interventions, detailed assessments and specialised drug therapies through its team of respected consultants and specialist nurses.
As an essential national resource, the team also helps ensure patients have access to care as close to their homes as possible, through collaboration with other health boards and ensures continuity of care throughout a patient's life.
Consultant Cardiologist Dr Niki Walker, Clinical Lead for SACCS, said: "Our new consultants will extend provision of robust and resilient services that can support colleagues in local centres and help provide a better infrastructure to support an increasing population who rely on our services.
"Children born with congenital heart disease are now surviving well into adulthood, often requiring further care and interventions. Thanks to this expansion in our team, we will now be able to offer a wider clinical service at the Golden Jubilee and support more outreach clinics. These clinics benefit patients by reducing their need for travel and help keep them safe in their local area. This is especially important in the current pandemic. Increased clinical availability at the Golden Jubilee ensures that, when needed, the patients can be seen and access specialist investigations and opinions.
"This is fantastic news for our more vulnerable patients as we can provide the care they need at the right time in the right place. SACCS has always been committed to the highest possible standard of care, and with these high calibre additions to our team, we now have a huge opportunity to deliver a world class service to benefit the patients of Scotland."
Dr Lorna Swan, who has been a Consultant Cardiologist for 15 years said: "At the Golden Jubilee I think we have the potential to continue to build this unit into a world renowned service, particularly as we now have five consultant cardiologists.
"With this level of expertise there is a real opportunity to capitalise on international best practice and innovative methods as we have worked in other fantastic units and can bring all of our experience together into this one specialist unit.
"Our model gives Scotland a major advantage. We can now offer additional bespoke outreach care at regional centres and help upskill them to offer care to patients near to their home, while the more complex treatments are still carried out at NHS Golden Jubilee. We also have a highly regarded, specialist nursing team, which is an advantage other centres in the world do not have."
According to latest figures in Scotland, there are approximately 18,240 adults (age 16 and over) who have congenital heart disease, with around 10 per cent deemed to have complex conditions - and the figure is rising every year.
During the Covid pandemic, SACCS staff have been providing ongoing care to patients virtually for safety reasons, and once normal service resumes in the health service staff are looking forward to delivering this care in increased outreach clinics, working collaboratively with local health boards.
Dr Veldtman, a consultant for 17 years who also did post-graduate training in Scotland, said: "We have a combination of a good clinical service and an academic potential which is very rare.
"Scotland is my spiritual home and I was very keen to come back here. I will focus a lot on research and we have a really big ambition to integrate and grow the clinical and research programmes for SACCS.
"We will look to see how we can partner and build bridges of collaboration with other institutions in the UK and internationally to improve standards, research output and competencies."