Landmark partnership aims to improve Scotland's health
September 07, 2022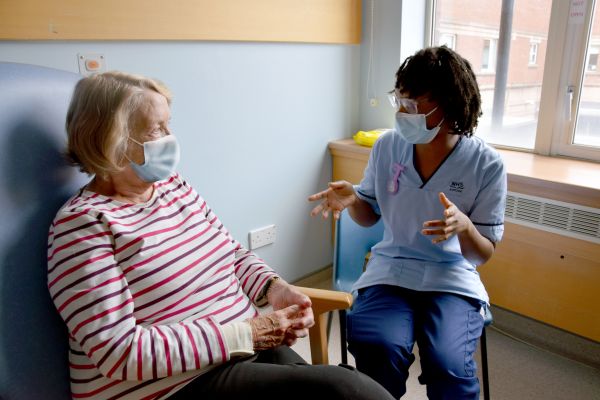 A ground-breaking collaboration between NHS, university and industry partners has been launched to co-create NHS Scotland transformation through large scale programmes to improve the health of the population and expand clinical research.
NHS Golden Jubilee's national Centre for Sustainable Delivery, NHS Greater Glasgow & Clyde, University of Glasgow, AstraZeneca UK and Lenus Health have signed a Memorandum of Understanding (MOU) to:
deliver NHS transformation by testing new patient pathways / digital technologies to enable earlier diagnosis and treatment,
enable large scale clinical trials and studies in Scotland,
collect evidence to assess the effectiveness of these new clinical management pathways, and
scale up successful pathways to spread across NHS Scotland.
The partnership has the potential to change clinical practice, improve patient outcomes and reduce waiting times, with an initial focus is on long term conditions and priorities set by Scottish Government.
The expansion of clinical research will promote the profile of Scotland and change clinical practice around the world. Close collaboration between the NHS, university and industry partners will create many opportunities to expand the Scottish economy.
The ambition is that patients throughout Scotland with all chronic diseases will be offered enrolment in studies and trials of new pathways and therapies.
The first project being considered for rollout across NHS Scotland is the Optimised Pathway for Early Identification of Heart Failure in the Community (OPERA) – a collaboration between AstraZeneca UK, NHS Greater Glasgow & Clyde, University of Glasgow, Lenus Health and West of Scotland Innovation teams.
The OPERA digital patient pathway was trialled at NHS Louisa Jordan during the Coronavirus (COVID-19) pandemic.
Patients attended a single clinic appointment to undergo a bank of tests including electrocardiogram heart tracing, echocardiogram ultrasound heart scan and blood-based biomarkers.
During the pilot, the waiting list for heart failure diagnostic tests was reduced from over 12 months to just 6 weeks.
Other projects being considered include:
Prevention of Chronic Obstructive Pulmonary Disease (COPD) Lung Attacks by early Intervention Strategies (POLARIS)
Screening for early heart failure diagnosis and Management in Primary care or at home using Natriuretic peptides and echocardiography (SYMPHONY) – a 5-country trial with a Scottish arm called TARTAN-HF)
Professor Jann Gardner, Chief Executive of NHS Golden Jubilee, said: "The national Centre for Sustainable Delivery at NHS Golden Jubilee has been set up specifically to renew and transform healthcare services across NHS Scotland and is uniquely positioned to deliver transformation programmes at scale through the Accelerated National Innovation Adoption pathway.
"This collaboration provides opportunities to improve patient care, employ new technologies and medicines, while addressing the impact of health inequalities and social barriers to provide a more sustainable future healthcare system.
Professor Julie Brittenden, NHS Greater Glasgow and Clyde's Director of Research and Innovation said: "We are already seeing great success in our COVID recovery, with a growth in the number of transformative studies involving novel medicines, devices, digital enabled technologies and artificial intelligence.
"This collaboration further adds to the opportunity to undertake high quality research and innovation projects such as OPERA, which will directly impact on and improve patient-centred care."
Tom Keith-Roach, President, AstraZeneca UK, said: "Building on the success of project OPERA this MOU represents our commitment to work with NHS Glasgow & Clyde, University of Glasgow, Centre for Sustainable Delivery and Lenus Health to improve and integrate chronic disease pathways, reduce waiting times and address healthcare inequality.
"Together, under this agreement we will establish Scotland as an engine for care model innovation, for generating practice changing evidence, and for scaling new care models to improve outcomes for patients."
Professor Iain McInnes, University of Glasgow Vice Principal and Head of the College of Medical, Veterinary and Life Sciences, said: "We are delighted to be signing this important MOU, which represents a strengthening of the vital triple helix partnership between research, industry and the NHS.
"Using the world-changing research carried out at the University of Glasgow, we will work together with AstraZeneca and the NHS in Scotland with the aim to deliver more high calibre trials and ultimately improve patient care."
Paul McGinness, Chief Executive Officer, Lenus Health: "As the exclusive digital partner of this unique agreement, we are delighted to be part of a new way of working that will enable innovations to be developed and implemented rapidly at scale in Scotland and across the NHS.
"Through our work supporting patients to manage long-term conditions using virtual care and AI platforms, we have seen first-hand how it can reduce waiting lists and prevent readmissions.
"By joining up data across clinical pathways and giving patients tools to engage with their health services, providers can significantly improve outcomes and enable more personalised healthcare.
"Not only will this agreement help expand these benefits at scale, but the commitment to the Scottish digital health and artificial intelligence ecosystem will also be beneficial to the local economy by encouraging investment in the technology sector and generating jobs."